Posted by Selina Law on Apr 8th 2020
Since many of us are staying at home most of the time now and eating out (and maybe even taking out) really isn't an option, we have found ourselves not only eating all our meals at home but also cooking all our meals every day. This may be a new normal for some of us when we used to eat maybe only one meal a day at home on days when we have to go to work.
Cooking every meal at home can be a challenge. It is not easy to come up with something different every day that pleases everyone at home. Some of my friends have actually started a chained email for us to swap recipes. In light of such interest, I am sharing here a few of the tea recipes that I have collected over the years. If you ever try cooking with these recipes, please share your results with me! Email ( greatgifts@screentea.com) me a note and/or a photo of your final products. I would love to know how these recipes work for you!
Chai-poached Chicken Salad with Lemon and Ginger Dressing (Serves 4)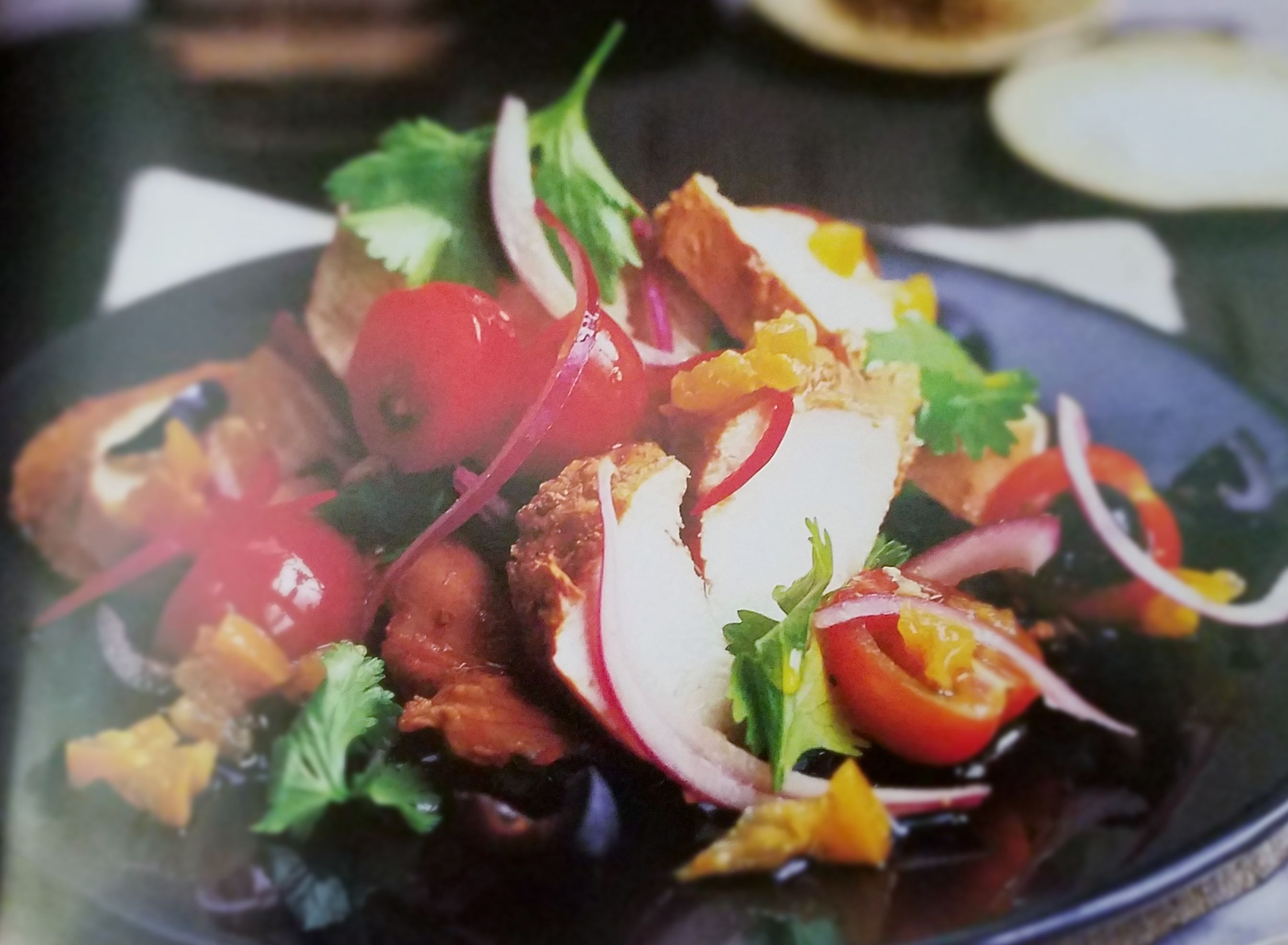 Salad Ingredients :
¾ cup cherry tomatoes, halved

½ red onion, thinly sliced

¼ cup black olives, pitted and roughly chopped

A small handful of cilantro, leaves only
Chicken Ingredients :
2 tablespoons loose chai tea or 3 tea bags

4 skinned chicken breasts

1 teaspoon black peppercorns

1 teaspoon sea salt
Dressing Ingredients :
1 small preserved lemon, finely chopped (about 1 tablespoon)

¼ teaspoon freshly grated ginger

1 small garlic clove, crushed

1 red chili pepper, seeded and sliced lengthwise

½ teaspoon sugar

5 tablespoons extra virgin olive oil
To make the chai-poached chicken:
Put the tea leaves/tea bags, chicken breasts and 2 cups of water in a large saucepan

Bring it to a boil, then reduce the heat and simmer for 5-8 minutes

When the thickest part of the chicken is cooked through to the center, turn off heat and let cool

Once cool, cover the saucepan with the chicken still submerged in the tea

Transfer the pan to the refrigerator­, and left it overnight
To make the lemon and ginger dressing:
Put all the dressing ingredients in a screw-top jar and shake until combined

This can be made a day ahead of time, if you like
To serve:
Drain the chicken and cut in thick slices. Toss chicken slices with all the salad ingredients and the lemon and ginger dressing, and divide between 4 plates.
Chinese Tea Eggs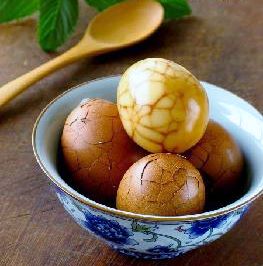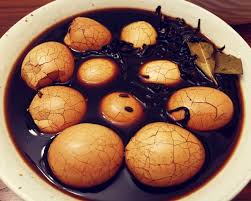 Main Ingredients:
12 large eggs
Marinade Ingredients :
2 tablespoons loose black tea leaves or 2 black tea bags

2 slices ginger

3 star anise

1 cinnamon stick

2 bay leaves

1 teaspoon Sichuan peppercorns

3 tablespoons light soy sauce

4 teaspoons dark soy sauce

1 teaspoon sugar

2 teaspoons salt

2 tablespoons Shaoxing wine (or other cooking wine)

7 cups water (enough so all eggs are submerged)
To prepare the eggs:
Bring the eggs to room temperature by leaving them out of refrigerator for a couple of hours
To prepare the marinade:
Put all marinade ingredients in a medium pot, bring to a boil

Turn the heat down to a simmer, cover pot with a lid and simmer for 10 minutes

Turn off the heat, open the lid, set it aside, and let it cool completely
To make tea eggs:
Bring a pot of water to a boil for the eggs

Once boiling, gently and quickly lower the eggs into the boiling water using a large spoon—avoid dropping eggs and cracking them on the bottom of the pot

Let the eggs cook in the boiling water for 7 minutes—best to set a timer

Once the timer goes off, turn off the heat, quickly scoop out the eggs, and transfer to an ice bath

Allow eggs to sit in the ice bath until they are completely cool to the touch

Once eggs are cooled, lightly crack the egg shells by tapping eggs carefully with a small spoon—the goal here is to make enough cracks to allow the flavor of the marinade to seep into the eggs

Soak the cracked eggs in the marinade for 24 hours in the refrigerator—make sure all the eggs are completely submerged in the marinade liquid
Additional tips:
Instead of cracking the eggs, you may also try removing the shells completely before submerging eggs in the marinade for a different look and stronger flavor.

You can also soak eggs longer than 24 hours for a stronger flavor. These eggs can last for 3 to 4 days in the refrigerator.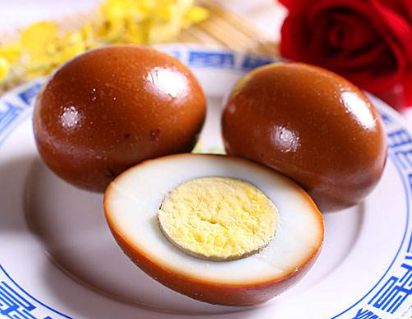 Eggs with shells completely removed before submerged in marinade
To serve:
As snack—bring eggs out of the refrigerator, drained, served whole or in halves immediately cold or after a few hours at room temperature
As topping on rice or noodle —usually sliced into halves and put on top of cooked rice or noddle dishes
Leftover Marinade
The tea egg marinating liquid, if stored properly, can be used more than once. If you plan to do so, make sure to use a clean spoon to remove the eggs from the liquid. And you should boil the liquid and let it cool again the next time you use it.
Pears Poached in Chamomile Tea and Spices (Serves 4-6)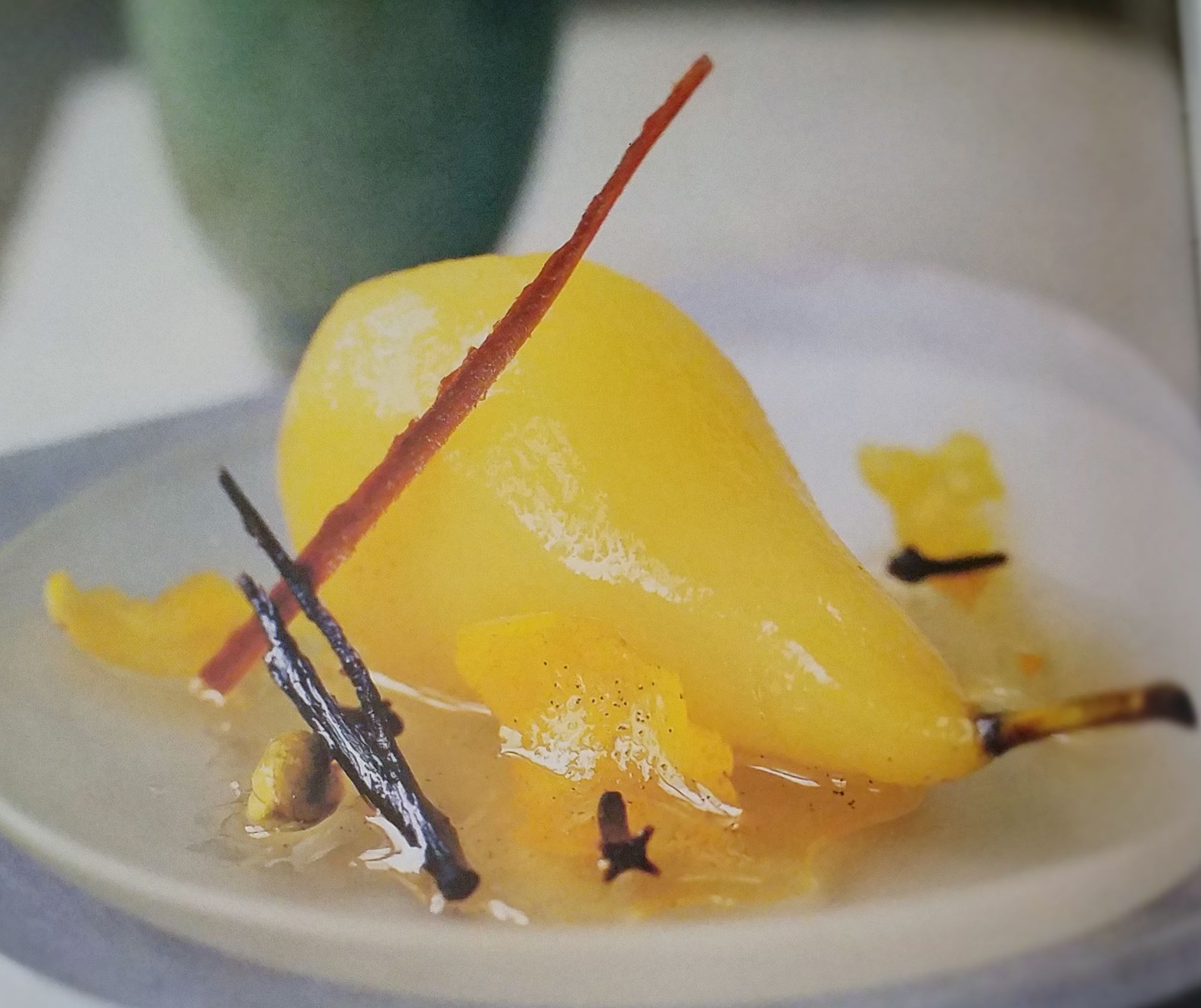 Ingredients:
2 tablespoons loose dried chamomile or 3 chamomile tea bags

6 cloves

4 cardamom pods

1 cinnamon stick

1 vanilla bean, split lengthwise

4 chunks of pared unwaxed lemon peel

1 cup sugar

6 small Bartlett pears, peeled

Crème fraiche, to serve (optional)
To cook:
Put the tea, cloves, cardamom, cinnamon, vanilla bean, lemon peel and 1 2/3cups water in a deep, medium saucepan, bring to a boil

Reduce heat, add the sugar, and heat gently until dissolved

Add the pears so that they are sitting snugly—they should be just covered with liquid, add more water if necessary

Cover saucepan with a lid and cook over very low heat for 15-20 minutes
To serve:
Transfer the pears to a serving dish and cover to keep warm

Return the pan to the burner over high heat and boil the syrup vigorously for 20 minutes, or until syrupy

Pour syrup over the pears and serve with crème fraiche (optional)